SpotSee's Warm Mark is used at many times throughout the supply chain of vaccines. Some vaccine manufacturers apply WarmMark to the vaccine vial box or inside. In other cases, large pharmaceutical distributors will add these indicators when breaking bulk cargo into smaller, insulated shippers. After receiving a batch of vaccines, one of the biggest applications of WarmMark is in vaccine management sites. As the refrigerator opens and closes, the vaccine is exposed to different temperatures, and the vaccine moves back and forth in the "last 10 feet" before injection. This is where most temperature-related efficacy and safety issues may occur. Use time and temperature functions.
The most accurate way for a company to ensure the correct level of medication is through the use of cold-chain temperature indicators, such as the WarmMark and ColdMark. Each of these indicators is designed for a single-use and alerts users of exposure to unacceptable temperature conditions that are previously selected by the manufacturer.
WarmMark temperature indicators have different temperature sensitivities, ranging from -18°C/0°F to 37°C/99°F, with specific requirements for acceptable non-refrigerated time. New variants include 8°C and 25°C versions with shorter operating times. The new time and temperature ranges are as follows:
| | |
| --- | --- |
| 8°C | 6 hours |
| 8°C | 14 days |
| 25°C | 6 hours |
| 2°C | 48 hours |
This indicator can be applied to COVID-19 packaging before transportation or storage to maintain vaccine effectiveness throughout the supply chain. This low-cost solution provides clear and easy-to-read instructions, so medical staff can rest assured when vaccinating patients.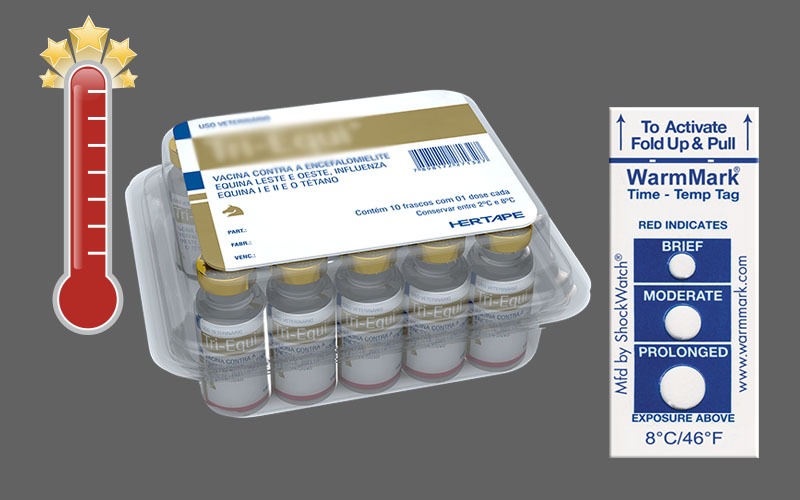 SpotSee's temperature indicators are used worldwide to ensure accurate results for the transportation and management of various vaccines, biologics, and specimens.
WarmMark changes color when a temperature goes above a predetermined threshold, whereas ColdMark monitors for going below the threshold. Together, these products can ensure medications stay at the appropriate temperature, making delivery services safer for consumers.